Scrilla has carved out a career as a critically acclaimed underground hip-hop record producer, crypto-artist, audio engineer and DJ.  He has deep roots in both the traditional music industry and the blockchain industry. 
Currently, J-Scrilla is working on releasing new music with K-Beta, an album from the duo entitled "Bad Rap," a new solo album- "Proof Of Work"-  featuring Uptown XO, Conway The MAchine, K-Beta, Flee Lord and scores more,  and an instrumental album which are all due to be released on Man Bites Dog Records this fall.
Additionally, a new album from the duo formerly known as Guns-N-Butter (Chops and Scrilla,) is in the works with Griselda's own, Benny The Butcher and will be released late summer 2019.
Scrilla first officially spoke about cryptoart at a Government blockchain meetups in DC. A year later he spoke at the now legendary Rare Digital Art Festival in New York, runs an Art On The Blockchain Meet-Up group in Washington D.C., and has delivered presentations titled "Intro To Crypto Art and Crypto Music" in Atlanta, Baltimore, and DC. 
Scrilla is also the creator and manager of one of the most prominent memes in the Bitcoin space – DJPEPE – the first ever Bitcoin meme to escape the blockchain and teach humans cryptoart.
Additionally, Scrilla is working on a series of crypto music projects that are part video, part song and part art, with some members of the blockchain community. He released "Cant Smoke A Bitcoin" featuring Peter Schiff and Chris Derose in 2018, which also featured the first ever Proof Of Share token "CANTSMOKEBTC" issued through Counterparty (XCP.) 
Scrilla began making cryptoart through the Rare Pepe Trading channels in 2016 and has since become one of the most prolific artists in the blockchain space, having issued (and sold) more than 40 cryptoart pieces. You can also check out some of his pieces here.  He has over 20 years of DJ and record producing experience and has carved out productions with hip hop legends such as Cassidy, Raekwon, Mobb Deep, Nipsey Hussle and hundreds more.
I am available for booking at rarescrilla@gmail.com.
June 25/26
Bitcoin2019 Conference
A Peer-to-Peer Conference
What does #FreeMoney mean to you?
Feb 8-10
TAB Conference
A Blockchain Conference of Substance, No ICO Pitches
Where: 
Georgia State University Student Center
55 Gilmer St SE, Atlanta, GA 30303
Tickets: CLICK HERE
Dec 6
Art Decentralized – The World of Distributed Masterpieces 
This event brings together all innovators, pioneers and creators in the industry looking to discuss and learn more about the impact of Art and Blockchain. 
Where:
Nikki Beach
1 Ocean Dr
Miami Beach, FL 33139
When: 9-6pm
Tickets: CLICK HERE
Oct 5
Conference Talk on How Musicians and Artists Are Using Blockchain
Atlanta, GA — A3C Conference Center @ TBA
Sept 17, 24 & Oct. 2
For this 3-part course, AOTB uses real-world and practical examples to introduce creatives to cryptocurrency and blockchain technology to assist artists increase exposure and navigate through new business models and use cases. Attendees learn how smart contracts can be used to track digital assets (which can be any artistic or creative work represented in digital form) licensed or sold using blockchain technology. AOTB focuses on basic contracting principles as well as intellectual property and introduces attendees to cryptocurrencies (such as bitcoin), smart contracts, digital assets and distributed ledger technology. 
Charles Sumner School Museum and Archives 
1201 17th Street NW DC 
Washington, D.C 20005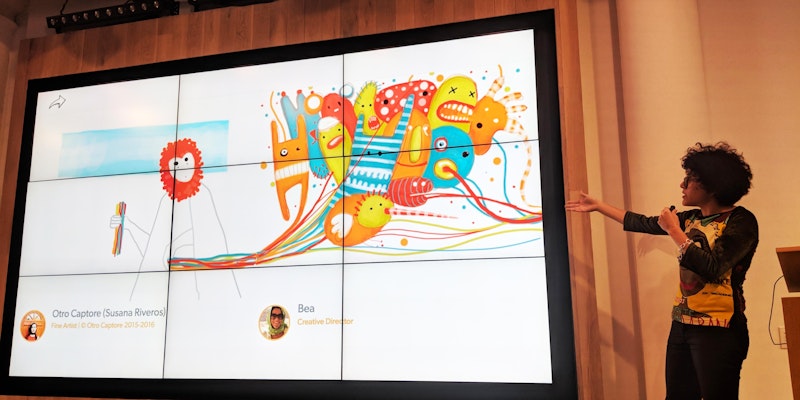 May 10
Creative Tech Week
New York, NY  — DCTV Independent Media Arts Center @ 2:00 PM – 11:30 PM EDT 
87 Lafayette Street New York, NY 10013
May 9
Rare Digital Art Cryptocurrency Charity Auction
Washington D.C. — Pow! Wow! @ 6:00 PM EDT 
Holy Bones Studio — 52 O Street Northwest #303, Washington D.C. 20001